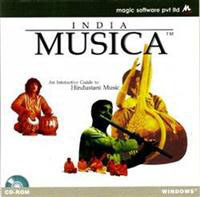 India Musica. Price: $40


An Interactive Guide to Indian Classical Music.
1 Multimedia CD - ROM Set.
ISBN : 81-86532-04-8.
Special Promotional Price: $35

Enjoy the enchanting music of India - the accumulated heritage of centuries - the timeless art which pervades every aspect of Indian life - childbirth to death, religious rites to festive celebrations.

Learn of music for different times of the day, seasons, moods and emotions. Understand and appreciate the whys and hows of Indian Classical Music.

India Musica - is your multimedia guide to styles, instruments, personalities and philosophy of music. Hear the musical genius of your favorite performers : Kishori Amonkar, Alla Rakha, Zakir Hussain, Amjad Ali Khan, Bhimsen Joshi, Bismillah Khan, Pandit Ravi Shankar and many many more. Read biographies and watch videos of concerts. This CD - ROM features all the maestros.

A Variety of Musical Instruments : Examine musical instruments, view them close, identify the different parts, learn about their origins, read detailed descriptions, and listen to their unique sounds.

An interactive initiation into Indian Classical Music : Expand your understanding of music concepts, find out about raga, tala, laya, swara, alap, taal learn to identify the elements of music, and create better appreciation between the listener and the art. The philosophy of music including the divine aim of sangeet and the Guru - Shishya parampara; the origin of music and its evolution...all this and more to enhance the bonds between you - the discerning listener - and your music.

India Musica - is to the music lover is a vista of beautiful emotions, to the uninitiated, a dream come true.