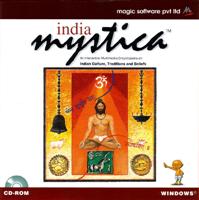 India Mystica. Price: $40


An Interactive Guide to Indian Classical Music.
1 Multimedia CD - ROM Set.
ISBN : 81-86532-00-5
Special Promotional Price: $35

India Mystica will surprise you, inform you, entertain you !
It will become your world !

Read, watch, hear and experience the mystique of India.
India Mystica, contains hundreds of pages of text with 400 pictures and illustrations. Over 400 audios, videos and animations bring alive one of the world's oldest living faiths with the power of multimedia.

Why are cows worshipped in India ?
What is the significance of Bindi ?
How did Ganesha get his elephant head ? What is Om ?
The answers to these and many more questions are found in India Mystica - an interactive multimedia journey through the popular beliefs and practices of a 4000 year civilization.
Read, watch, hear and experience the Mystique of India.

Beliefs and Concepts.
Nature Worship.
Customs and Ceremonies.
Religious Texts.
Read explanatory text researched from ancient scriptures.
Visualize symbols of faith in high quality photographs and illustrations.
See myths and legends come alive in vibrant, narrated animations.
Discover the sounds of hymns and songs routinely heard in homes and temples.
Watch full motion video of ceremonies and festivals as practiced for centuries.
Hear authentic pronunciation of vernacular words.
Look up the comprehensive Glossary for an explanation of unfamiliar terms.

System Requirements:
Multimedia PC with 486 or higher processor. Pentium recommended.
8 MB RAM [ 16 recommended. ]
CD - ROM Drive.
Audio Board.
Headphones or Speakers.
SVGA 256 - Color Display.
Microsoft Windows 95 or Later with 640 X 480, 256 Color Display. True Type Fonts.