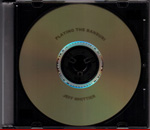 Playing the Bansuri. A Manual for the North Indian Flute.


By Sri Jeff Whittier. Price: $40
Manual and Video.
14 Lessons in the Music of the Indian Bamboo Flute.
Basic Lessons in Bansuri technique, North Indian Music and Notations. Including Lessons in the Ragas Hansadhwani, Bhupali, Alahiya, Hindol, Kalavati, Misra Kafi, Patdeep, Madhuvanti, Kaushik Dhwani and Yaman. Manual gives notations for all the musical examples played on the 38 minute Videotape and includes many exercises for the development of Bansuri technique.
These Lessons are for both beginning and intermediate students of Indian Music and will also be useful for those Musicians who have a background in Western Music and would like to explore Indian Music.
An Introduction to ..... Sri Jeff Whittier.
Jeff Whittier began his formal study of North Indian Classical Flute in 1971 at the Ali Akbar College of Music in San Rafael, California with Pandit G. S. Sachdev. He is an exponent of the Indian Classical Tradition called "Gayaki Ang" or the style of playing based on Indian Vocal Music. He frequently performs at venues such as Hindu Ashrams and Temples in addition to the Concert Stage.
In addition to being a performer of the Bansuri or Indian Bamboo Flute, he is also an expert and master craftsman of the Instrument. In a 35 - Year career of flute - making he has produced more than 30,000 Flutes, of which some Flutes were created for some of the most famous musicians of India, including Pandit Vijay Raghav Rao and Pandit Hariprasad Chaurasia, Pandit G. S. Sachdev who are the leading Flautists of Indian Classical Music.
Sri Jeff Whittier's Flutes are also used in Broadway Shows : The Lion King , Miss Saigon, The King and I and Aida . His Flutes have won him glowing tributes and accolades from all over the world.
If you hear Tabla and Bansuri Music in the background in Hollywood Movies, TV Commercials, Infomercials, Discovery Channel Films the Bansuri is most likely created by Sri Jeff Whittier.

To view Jeff Whittier Article. The Flute Man. By Radhika Sharma. December 2002.