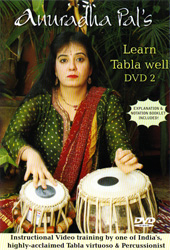 Learn Tabla Well. 2. $20

Instructional DVD by Maestro Anuradha Pal.
Play it the right way effortlessly.

Catalog : SAS DVD 02.
Special Promotional Price : $16

Explanation and Notation Booklet Included.
Instructional Video Training by one of India's Finest and Highly acclaimed Tabla players. DVD includes Explanation Booklet with Notations.

Anuradha Pal, will inspire you to bring out more clarity, energy and expression from every practice session and performance.

Learn Tabla Well DVD - 2, Includes a compressive course for Beginners and Intermediate students of Tabla of the following -

Revisions of Concepts learnt in DVD - 1.
New Concepts - Tihai and their various kinds [ Dumdaar, Baydum and Chakradhar ] with varieties of phrases.
New Concepts - Learn to play a Tukada with varieties.
Learning three more Kaidas with Paltas & Tihas.
Includes a booklet with tabla language + 3 different Tihais and 2 Tukadas.
About Anuradha Pal.
Anuradha Pal - stormed the music world with her concert performances as a 'child prodigy' when she was barely ten and half years old. Performing a rare blend of diverse styles of Tabla soloing and accompanying the virtual who's who of Indian Classical Music, Anuradha has also extensively colaborated with African, Jazz and World Fusion musicians.

A disciple of the World-renowned Tabla maestro's, Ustad Alla Rakha and Ustad Zakir Hussain, Anuradha has performed in world festivals WOMAD, RhythmSticks, Voices of the World Festival etc. in India, USA, UK, Europe, Australia, Japan, Africa, Hong Kong and New Zealand.
Reviews.
'Anuradha Pal - raising the standards of Musicianship... Listen to Anuradha Pals latest offering, a four-track Tabla solo CD simply titled 'Anu', and you will be captivated by her nimble fingers executing complex rhythmic patters at great speed. The magnitude of Anuradha's spirited effort shines through every note and syllable. A true groundbreaker !
- BBC Folk Roots Magazine, U.K, 1999.
'Exceptional Mastery ! Phenomenal Talent Anuradha Pal displays a virtuosity beyond compare.'
-Times of India. 1995.