One World Flutes.
Profile - Pandit Hariprasad Chaurasia. The Greatest Living Master of the Bansuri.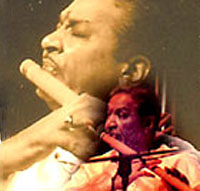 Pandit Hariprasad Chaurasia is known internationally as the greatest living Master of Bansuri, the North Indian Bamboo Flute. Hariprasad is among a few but growing classicists who have made a conscious effort to reach out and expand the audience for classical music. He is probably the most accessible Indian musician who has done a lot to popularize Bansuri and Classical Music among the masses.
Hariprasad Chaurasia, was born in Allahabad in 1938 into a non musical family. His father was a wrestler. His mother died when he was very young. Hariprasad had to learn music almost in secret, scared of the father who wanted him to become a wrestler. First he started learning vocal music from Pt. Rajaram at the age of 15. Later, he switched to playing the flute under the tutelage of Pt. Bholanath of Varanasi. Much later, while working for All India Radio, he received guidance from the reclusive Smt. Annapurna Devi [daughter of Baba Allaudin Khan].
Pt. Chaurasia is a rare combination of innovator and traditionalist. He has significantly expanded the expressive possibilities of North Indian Classical Flute through his masterful blowing technique. Pandit Hariprasad Chaurasia is one of the busiest North Indian classical musicians, regularly traveling and performing throughout the world. Apart from classical music, he has made a mark as a hindi film music director along with Pt. Shivkumar Sharma forming a group called Shiv - Hari. He has also combined with various world musicians at experimental music, including the world famous group Shakti.
The great Indian Master of the North Indian Bamboo Flute has won a number of prestigious awards including the Sangeet Natak Academy [ 1984 ], Padmabhushan [ 1992 ] and Padma Vibhoosan [ 2000 ].
Courtesy Musical Nirvana Site. Reproduced here for educational purposes only.