One World Flutes.
Biography - Late Pandit Pannalal Ghosh. The Wizard of the Bansuri.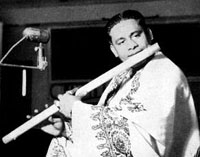 Born in Barisal, East Bengal [ now Bangladesh ] on July 31, 1911, Amulya Jyoti [ nicknamed Pannalal ] Ghosh was a child prodigy. He inherited his love of music and the bamboo flute [bansuri] from his grandfather, Hari Kumar Ghosh who played sitar,tabla,and pakhawaj and learned sitar from his father, Akshay Kumar Ghosh. He also learned music from his maternal uncle, Bhavaranjan Mazumdar who was a vocalist. The family first lived in the village of Amanathganj and later moved to the town of Fatehpur.
Two apocryphal incidents happened to young Pannalal which had an influential bearing on his later life. First, at age 9 while looking for a stick, Pannalal found a flute floating in the river. He retrieved the instrument and so began his lifelong relationship with the bansuri. Two years later at age 11 Pannalal met a sadhu who held both a conch and a flute. The sadhu asked Pannalal if he could play the flute, and young Pannalal obliged. The sadhu gave him the flute and told the boy that music would be his salvation.
Due to political unrest in 1928, at age seventeen Pannalal left Barisal and went to Calcutta in search of livelihood. In the teeming metropolis he found himself without any credentials except his having been a boxing champion in his native place. With his skill as a boxer he landed a job as a coach in an athletic club.
At this time Pannalal, who was already playing sitar, began to focus his attention on bansuri. Economic necessity drove him into performing music for the silent films in Calcutta. At an All India music competition he met music director and composer Anil Biswas and began to play in his musical productions. It was during one such production when Anil Biswas was directing music for a dramatization of a work by the renowned poet Kazi Nazrul Islam that Pannalal decided that he needed a bigger flute who's pitch and sonority would be more appropriate for both classical and light music. He experimented with various materials including metal and other types of wood, but decided bamboo was still the most suitable medium for a larger instrument. He finally settled on a bansuri which was thirty two inches long, with a sa [tonic] at kali doe [the second black key on the old harmonium scale]. As a flute of this size was hitherto unknown, a rumor arose that Pannalal had had surgery to cut the webbing between his fingers to facilitate the large span required to cover the finger holes of the instrument. Of course, he had no such surgery, but through dedicated riyaz [practice], Pannalal invented and perfected the technique to play the large instrument. At this time he would get his bamboo to make flutes from discarded packing materials found at Diamond Harbor, the large port of Calcutta. Deforestation had not yet consumed the forest around Calcutta, and the bamboo was believed to have grown close to the city itself.
In 1936 Pannalal began working with Raichandra Boral, music director of the well known 'New Theater' and one year later he met his first guru, Kushi Mohammed Khan - the 'Harmonium Wizard'. In 1938 as music director of the dance troupe of the princely kingdom of Seraikella State, Panna Babu [as he was affectionately known] was one of the first classical musicians to visit and perform in Europe, which he found rather agitating and unsettling. Soon after his return to India his guru expired. Thereafter he underwent training from Girija Shankar Chakravarti. In 1940, Pannalal moved to Bombay on the advice of his first disciple Haripada Choudhary [who had himself recently moved to Bombay]. There he joined the Bombay Talkies film studio and gave music to quite a few films including 'Basant.' Panna Babu's wife, Parul Biswas, [sister of Anil Biswas], was a graceful singer of kirtans who became one of the first well known playback singers for the new 'talking' films.
Pannalal first met the legendary Ustad Allaudin Khansahib, [reverentialy known as 'Baba'] in 1946, when Baba came to Bombay with his disciple, Pandit Ravi Shankar. Initially, when Pannalal asked Baba to teach him Khansaheb replied, "You are already great, you don't need to study more." Pannalal implored Baba to please teach him so that he could learn "authentic music and sur." In 1947, Pannalal's lifelong yearning to learn music from a true guru was fulfilled when Allaudin Khansaheb , convinced of Pannalal's sincerity to learn, accepted Pannalal as his disciple. Pannalal then accompanied Baba to his home in Maihar, where he received intensive taalim [training] from Khansaheb for the next six months. Under Baba's firm yet understanding tutelage, he blossomed into the wizard of the bamboo reed.
Panna Babu, earned fame through his regular broadcasts on AIR [ All India Radio ] and his many live performances at music festivals throughout India. The eminent vocalists Ustad Fayaz Khan and Pandit Omkarnath Thakur appreciated his music very much and requested Pannalal to accompany their vocal recitals on bansuri. He was praised for his adaptation and rendering on the bansuri of the khayal-ang-gayaki [ the classical vocal style ], particularly influenced by the great master of the Kirana Gharana, Ustad Abdul Karim Khan. Pannalal also incorporated alap, dhrupad - ang - gayaki, tantrakari, jhala, thumri, dadra and folk music into his performance style on bansuri. Well versed in tabla and rhythm, he would perform in such difficult tals as jhoomra and tilwara. His music was steeped in devotion and had an intangible ethereal element, immense emotional depth and was infused with spiritual profundity. In addition to introducing the larger instrument, Pannalal Ghosh is credited with inventing the bass bansuri and introducing the six - stringed tanpura, high - pitched tanpuri and the surpeti or sruti box into Indian music. He created and popularized several new ragas including Deepawali, Pushpachandrika, Hansanarayani, Chandramauli, Panchavati and Nupurdwani, as well as multitudinous vilambit and drut compositions in many well known ragas.
Panna Babu, practiced daily meditation and observed maun by not speaking on Thursdays. He took the vows of Ramakrishna and put his faith in music.
Pannalal, continued composing and recording music for films, but began to find film work distasteful. Panna Babu's impressive rendition of Raga Darbari Kannada in his 1956 National Programme broadcast from AIR Delhi fetched him further acclaim and at this time B.B Keskar, director of AIR, awarded him the meritorious post of composer-conductor of the Indian National Orchestra and producer for AIR Delhi. He held the post and maintained his devotion to the interpretation of classical music on the bamboo flute until his untimely and sudden death due to heart attack at the age of 49 on April 20, 1960 in New Delhi.
He left his musical legacy in the capable hands of his principal disciples : the late Haripada Choudary, Devendra Murdeshwar, V.G. Karnad.
Courtesy David Philipson's Bansuri Site. Reproduced here for educational purposes only.