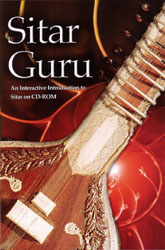 Sitar Guru. An Interactive Introduction to Sitar on CD - Rom. $35


Text and Demonstrations by Pandit Arvind Parikh.

This Set includes Bonus CD by Pandit Arvind Parikh.
1 Multimedia CD - ROM Set.



Sitar Guru ... Learn about and obtain the most mature and popular instruments of the Indian Classical Music tradition, with a history that has been documented since the 18th century. Mastering its art requires many years of arduous apprenticeship under the guidance of qualified Gurus. Appreciating sitar music is in itself a challenge for the uninitiated.

In this CD - Rom, Pandit Arvind Parikh presents an elaborate of sitar music, which includes a detailed guide to the central concepts of Indian Classical Music, insights into the idiom of plucked instruments, with special reference to sitar and its physical and stylistic evolution.

Audio-Visual presentation by Pandit Arvind Parikh and a group of his very talented students provides invaluable instructions in playing techniques and the various movements in sitar music. Comprehensive diagrams illustrate posture, hand positions, and other technical aspects of playing. The presentation covers the whole range of concepts, techniques, and nuances - from the very basic to the fairly advanced - involved in creating an aesthetically satisfying raga presentation.

The CD-Rom combines expert analysis with simple, user friendly learning tools. It is a fascinating introduction to the sitar for all music enthusiasts and an invaluable training manual for those who wish to learn to play the instrument.